Valley mills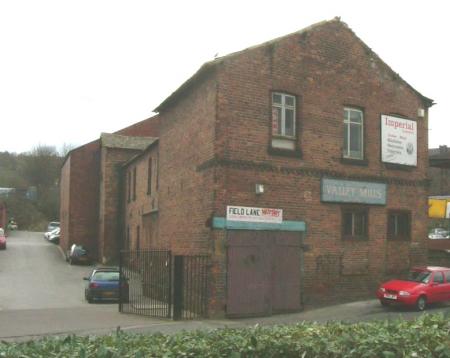 Only a small and battered section now remains of these once substantial mills in Field Lane next to New Ing Mill. These are said to have been built by the Sheards, probaly in the mid 1850s, for they do not appear on a map of 1854, but by 1858 Michael Sheard and Sons are listed as scribbling and fulling millers at Old and Valley Mills, and an 1870 White's directory lists Sheards at Hick Lane, Hick Well and Valley mills.
 A few years later they belonged to Joseph Parker and Sons, who are listed there by 1878.
In 1878 Edwin Sheard was also listed as on the premises in business as an oil merchant
By the late 1870s the firm seems to have been in financial difficulties and in 1881 Joseph and his son of the same name withdrew from the firm.
In 1927 Kelly's Directory lists Wrigley and Parker Bros.Ltd at Green Hill and Valley Mills and with a warehouse in Station Road.