New Ing Mill
This mill is believed to have been established in 1839 as a finishing mill, and the firm of Jubb, Sheard & Co were operating as cloth dressers there in 1845. Sheard involvement continued for some years, and at the time of Benjamin Sheard's 21st in 1852 his father Michael was described as a partner in Jubb, Sheard & Co.'s finishing mill. 
 In 1853 Michael pulled out of the partnership at that time also comprising Joseph Jubb, Michael's brother-in-law Henry Brearley, brother George, Robert Wilson and Jubb's son Joseph.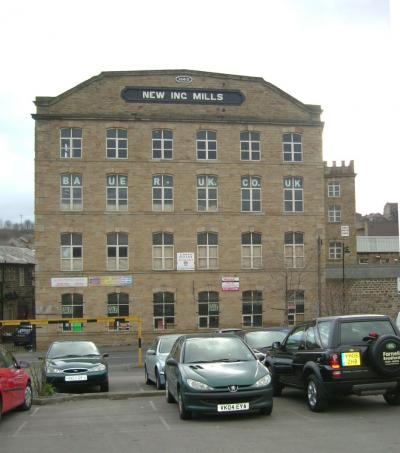 By 1859 Geoge Sheard had died, and the partnership was dissolved. Joseph Jubb was now to carry on the business under the name of the New Ing Mill Company with his three younger sons, Joseph, George and Samuel. The firm then added a weaving shed.  In 1862 Joseph Jubb junior pulled out of the part7nership, but the others continued to develop the concern, and in 1863 built a four storeyed mill of fireproof construction, where the whole process of making cloth could be carried out.
The mill remained in Jubb hands until 1902, when it was sold to a John Blackburn, not connected with my own Blackburn family, but by then the owner of Providence Mill