Cheapside Mill
This was built around 1850 by the brothers Isaac, Simeon and William Henry Colbeck, who traded as Colbeck Brothers. Isaac and Simeon are understood to have been apprenticed to their uncle Joseph Jubb, and indeed we find Simeon there as a wool apprentice in the 1841 census.
It was there, in these early days, that William Sheard was their dyer.
The brothers had lived close to each other near the mill, but in 1856 Isaac pulled out, supposedly because of a trivial-sounding family quarrel., and built himself a mill of his own, the Lady Ann Mill at Soothill.
Simeon and William Henry carried on at Cheapside, but a major setback came on the 20th December of 1860 with a fire which is said to have almost wholly destroyed the mill, a four storey building some 65 yards long.
An account in the Dewsbury Reporter gives two accounts of who raised the alarm, and there may well be some truth in both. It seems the watchman had not been in the mill itself, having had leave in fact to attend to the fire engine. and is believed to have blown a whistle attached to that. At all events some signal was given which led watchmen of mills around to ring their bells, a cacophany of sound which summoned firstly the Batley No 2 Brigade. A moving account is given of attempts to fight the fire, with other brigades attending including those from Batley Carr and Heckmondwike, from whence the Flush Mills Brigade gave particular assistance. Despite all this assistance the building was destroyed, but the fire was to some extent contained, and the nearby engine house, weaving shed and finishing departments were saved.
There was some insurance, but in such cases there would be at least a temporary loss of work , and we are told that a deputation of workers to other millowners was met with an assurances that they would attempt to find employment for as many as they could.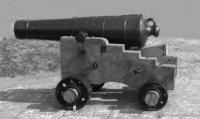 The mill was rebuilt and business carried on,whilst other activities took place there too, for in these years William Henry's Artillery Volunteers were drilled there, employees being encouraged, perhaps expected, to join. There were said to have been two cannon in the mill yard, later removed to his house at Gomersal.
When Simeon established new works at Alverthorpe, near Wakefield. William Henry seems not to have wished to carry on in Batley alone, but rather sold the mill in 1872 to Taylors for £35,000.
The main building burnt down in 1879, and was not rebuilt until 1895, whilst a second substantial building was erected in the 1920s. The firm ceased trading in 1962, but much of the premises are now still in use in what has been a successful venture for Batley.