The Old Mill

 This mill must have come into use soon after the Clerk Green one, built on a plot of land originally known as Lower Calcroft between Commercial Street and Batley Beck. Deeds of 1796 describe that at Clerk Green as "lately erected" whilst the Old Mill appears to have been still in the planning stages
 (I am especially indebted to Ann Bremner for passing on much information from her correspondence with the late John Nussey concerning the Old Mill, This John Nussey, of the well known Birstall family, was the author of a valuable booklet on Smithies Mill at Birstall, and the editor of the Birstall transcripts published by the Yorkshire Archaeological Society, with which Ann herself also assisted.)
 Again it was a Company mill, a group of 23 men putting up money for the venture, the names of the original subscribers being:-
William Blakeley
John Cooper
John Scatcherd
Joseph Greenfield
John Chadwick
Thomas Parr
John Blakeley
John Wilson
Squire Newsome
John Sheard
Joseph Talbot
David Stubley
Joseph Senior
Joseph Cooper
Joseph Lee
Samuel Walker
Edward Dean
William Ibberson
Joseph Blakeley
Samuel Burnley
Joseph Galland
John Senior
The original trustees in a deed of 1796 were:-
William Blakeley
Thomas Dean
John Cooper
John Scatcherd
Joseph Greenfield
John Chadwick
Thomas Parr
Operation as a Company Mill
Over time there were changes in the trustees; for instance in 1813 William Ibbetson,John Wilson and Joseph Senior replaced John Cooper and John Chadwick, who had died, and Thomas Parr who had resigned and sold up, as trustees. In 1825 Thomas Hall, Joseph Lee and Thomas Wilby replaced Messrs Greenfield, Scatcherd and Wilson. It appears that the mill was operated in the early years by Messrs John Scatcherd & Co, for in 1833 the Leeds Mercury reported the death of a Joseph Clarkson who had been for upwards of 30 years bookkeeper to Messrs.John Scatcherd & Co. of the Old Mill. John Scatcherd himself died in the previous year and his shares in the mill were put up for sale. Interestingly his will mentions a colliery worked by the proprietors of the mill.
Joseph Colbeck was a spinner there in his youth, while young George and James Stubley were working there in the 1830s as piecers.
A deed of 1835 in which Joseph Senior is bought out by the other proprietors refers to the Mill as in the possession of Messrs. Hall, Sheard and Company, a firm listed in an 1842 Directory as scribbling and fulling millers.
By 1846, when a share was offered for sale, the mill was in the occupation of Messrs Thomas Wilby &Co, and they are listed there as woollen manufacturers in an 1855 directory.However, a deed of 15th October 1851, a mortgage from Samuel Burnley to John Burnley of £150 on security of one thirty-sixth part of the Old Mill refers to it as now in the possession of Messrs Michael Sheard and Sons.
In 1858, a directory listing shows Michael Sheard & Sons as scribbling and fulling millers there, as well as at Valley Mills. It was Michael Sheard and Sons who were described as in occupation when the mill was offered for sale early in 1862, described as a woollen mill with steam engine, fulling stocks, scribbling, carding and spinning machines, dyehouse and drying room, warehouses and other buildings. There was extra building land, and the proximity to the Railway Station was highlighted.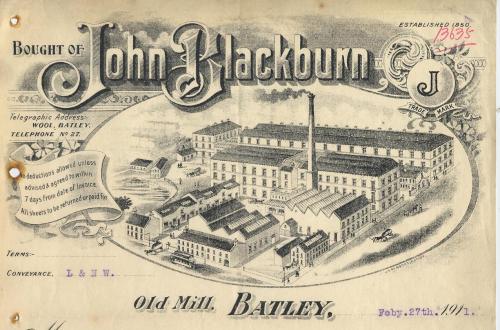 © image collection V E Tomlinson

John Blackburn: Old Mill
By May of 1862 John Blackburn was in possession and selling the existing machinery explicitly to make room for the Mungo, Shoddy and Flock business.  John already had a business in Germany and was to acquire another, and in these early days large amounts of pulled shoddy and mungo is said to have been imported under his trademark J.
John must have installed equipment of his own, but perhaps started modestly, or was concentrating on importing, for an account of Ned Wilson who worked there from the beginning says that there was only one rag machine at first of which he was placed in charge.
Considerable damage was done by a major fire late on May 9th 1871. The fire was discovered by policemen on duty in the area, and the alarm was raised. The two Batley fire engines were quickly on the scene, joined soon by several other brigades. Unfortunately water was in short supply, as was said to then frequently happen in such cases, being turned off at the street mains. It was a long while before the firemen were able to access a sufficient supply and the fire quickly took hold. A three storey building forty yards long is said to have been burnt to the ground, Damage estimated at around £20,000 is said to have been covered by insurance.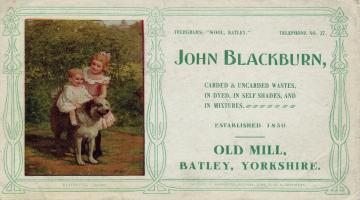 © image collection V E Tomlinson
Whilst the German mills later passed into the hands of his John's brother and nephew, the Batley mill was rebuilt and was long to remain in Blackburn hands. For a time John's nephew George was involved along with his son John William and George's son William Henry, but in 1892 George and his son left to set up in business on their own in Birstall, and John William was in charge until his retirement in the early 1920s, to be succeeded by his sons John Sheard Blackburn and Frederick Blackburn. though this partnership was dissolved on the 24th of July 1924,when Fred left to start his own venture in Ravensthorpe, where my father Brian Eley was to join him. Eventually with John Sheard Blackburn's withdrawal, The Old Mill was sold, but continued as an active concern for some time, finally closing in 1971.
Some of the documents mentioned here are in my possession, and were considered with Michael Barker some years ago. He contributed an admirable summary of them to the Blakeley One Name Study Group. They can be seen on The Blakeley One Name Study website.